Tourentyp
Lat
Lon
Mitreisende
Hi everyone, here is a small side trip that I did while I was in Los Angeles for work.
Some people would love to see the big city and so did I during the weekends but there is more to see in California.
I decided to add a few days after work was done and go and see the biggest trees on our planet the Sequoias. These trees really came into my picture when Julia (Butterfly) Hill climbed the tree she named Luna in the late 90s to prevent loggers chopping down the tree. She stayed up there without coming down for roughly two years.
I didn´t really plan this trip so I had to organize some camping stuff. At first I planned to stay in the Lodges up in the park but after I found out how overrated they where I decided to buy a sleeping bag and matt at Walmart and go for a decent tent at REI camping stores. For clothing I would use my trail running gear that I always bring along wherever I go.
As I would be on tour with my rental car I just bought the food that I thought I would need.
And folks, this is America with fast food everywhere especially with 1000s of tourists wanting to see the same as myself!
I did see lots fantastic things but wait till you get to the bear part. That is something call a once in a life time experience although I almost had a heart attack!
Anyhow it was late October 2012 when I drove out of LA towards Sequoia National Park. The drive was Kind of boring but I drove through Bakersfield and for some reason I thought that would be a mind blowing town. I don´t know why but sometimes you make things up. Well it was one of those places that can only be described with one word; Disappointment.
From Bakersfield to the foot of the mountains the whole area was covered with only one crop "Oranges". Can mankind eat so many oranges?????
I entered the park shortly after a village called three rivers and had to register and pay the entrance fee at the Foothills visitor center.
Three river area shortly before entering the National park
Don´t drop down
One of the three rivers?
It took me quite some time to drive to Lodgepole camping ground as I stopped over and over again. These mountains with the incredible views and all the giant sequoias everywhere, it just took my breath away.
Great view from the roadside
My first Sequoia´s....How big...But nothing compared to what was coming
That night I put up my tent on a huge space all for me (yes in America everything is much bigger) and went for dinner in the Wuksachi Lodge. I didn't really fit in that luxury place but who cares I just wanted a good meal and I am used to people staring at me. Can´t be worse as eating out in the Chinese country side.
My 30$ sleeping bag was not that bad because I made it through the night without frostbite!!!!
I did an early start and everything was still frozen white but with a clear blue sky.
At the start of the first walk
The first of many of them
The trunk of that tree (find my daypack)
I met this little boy camping with his dad. What a great father
My first goal was the biggest of all Sequoias the "General Sherman". The walk up there was already so amazing walking through these sequoia woods. I couldn't imagine that the trees could be any bigger than the ones on route.
There he/she/it was so big, huge, high, tall, old…..Words can´t describe this tree…Amazing is all I can think of. I feel so lucky to have the opportunity to see this.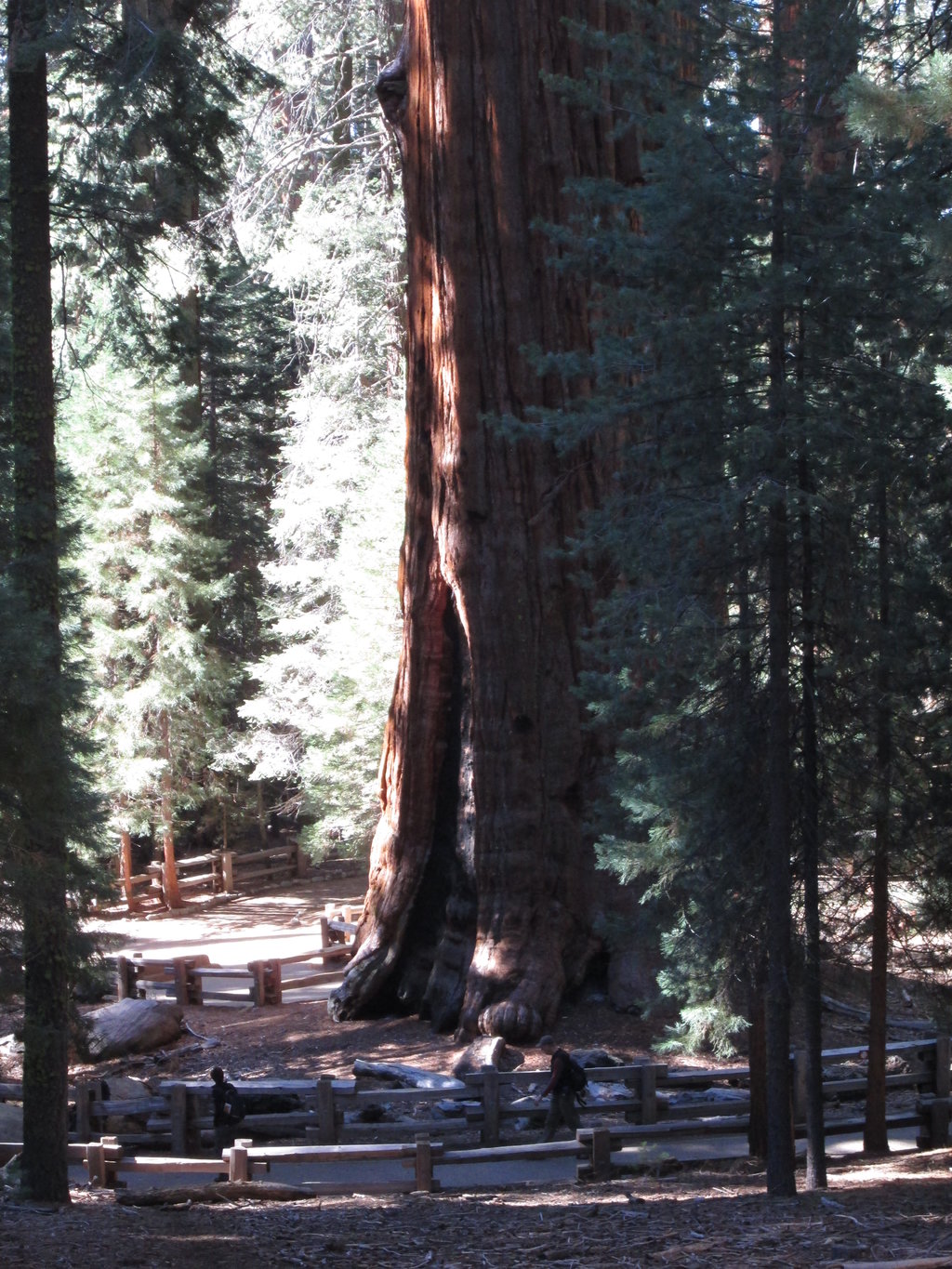 My first view of General Sherman
To big for a selfi, somebody had to help me out
The upper part
The people in the picture give a good impression of the size of this tree
Of course there are lots of people here but shouldn't they be there? They just want to see this beauty just like me.
Just a little side note; the height of this tree is 83/84 meters, the statue of liberty including its base is 93meters. This gives us a little bit of a feeling for the dimension of these trees.
After a while I wandered off again and in no time I was off in this majestic forest all by myself again.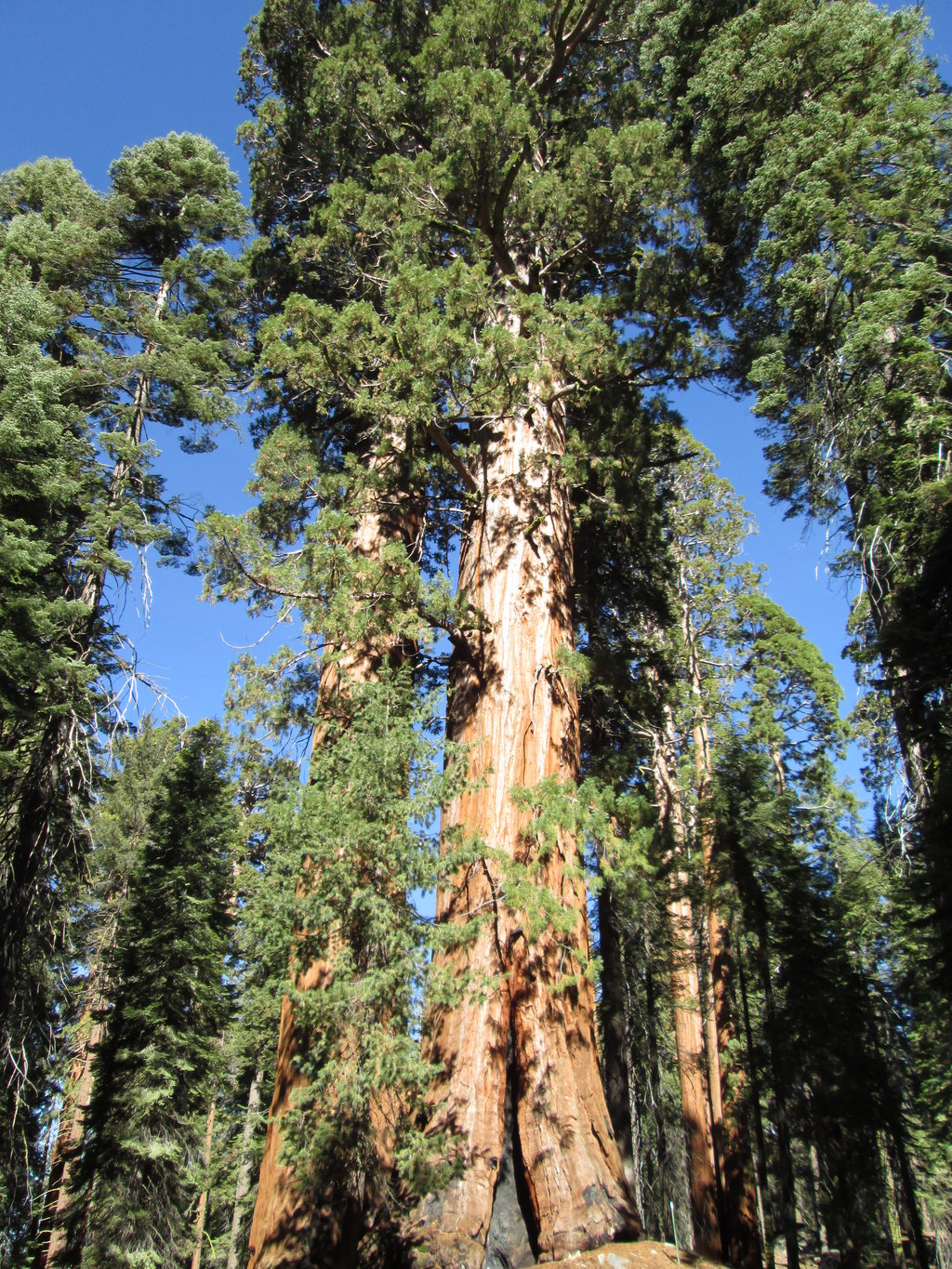 Just some beauty somewhere in the forest. With a goodlook you can see the fire scars inside the lower part of the trunk
That same tree with the scar
Just a nice picture
On my way to the lookout on Moro rock I passed the "tunnel log". When the tree fell on the road one of the workers who had to clear the road decided to cut a tunnel instead of cutting the tree apart.
Tunnel log
Moro rock
Hanging rock just below the summit of moro rock
View from the summit of moro rock
Fallen Sequoia on my way back to Lodgepole Camping (find my daypack for the size of this tree)
There she is
After a full day of hiking I am still facinated with the size of these trees
From Moro rock it was slowly time to hike back towards my tent because I had planned to make it to Kings Canyon national park and stay over in cedar grove campsite.
View during the drive to Kings Canyon national park
Next view
Being alone and pinching my tent on cedar grove campsite my neighbors pitied me and asked me to come over and have dinner with them. This kind of hospitality is one of the things about the US that I have come over many times. In that sense we Europeans can learn a lot from the Americans.
I placed all my food in the bearbox belonging to my camping site. You can´t miss all the warnings about bears breaking in to tents, cars, RV´s. woooooo scary.
Did I sleep well that night with bears around???? I can´t remember. But I am here writing this story so they didn´t eat me.
My campsite
The bearbox
Next day I made an early start as I wanted to do a long day hike into Paradise Valley. I would have loved to do some serious hiking but first of all I had no time and second of all in a couple of days the rangers would close the area due to end of season. Before I started my hike I had to register at the ranger's post where I got a brief instruction about how to react when you run in to a bear. Well I listened carefully but I didn´t really think I would be that lucky.
Ok off I went great weather, great scenery and that day I didn´t meet anybody.
Maybe that was why I saw my first bear in the first hour or so. It was in the branches of a tree above the trail I was so excited that I almost forgot to breath. All in all I was not that scared so at least I took a picture.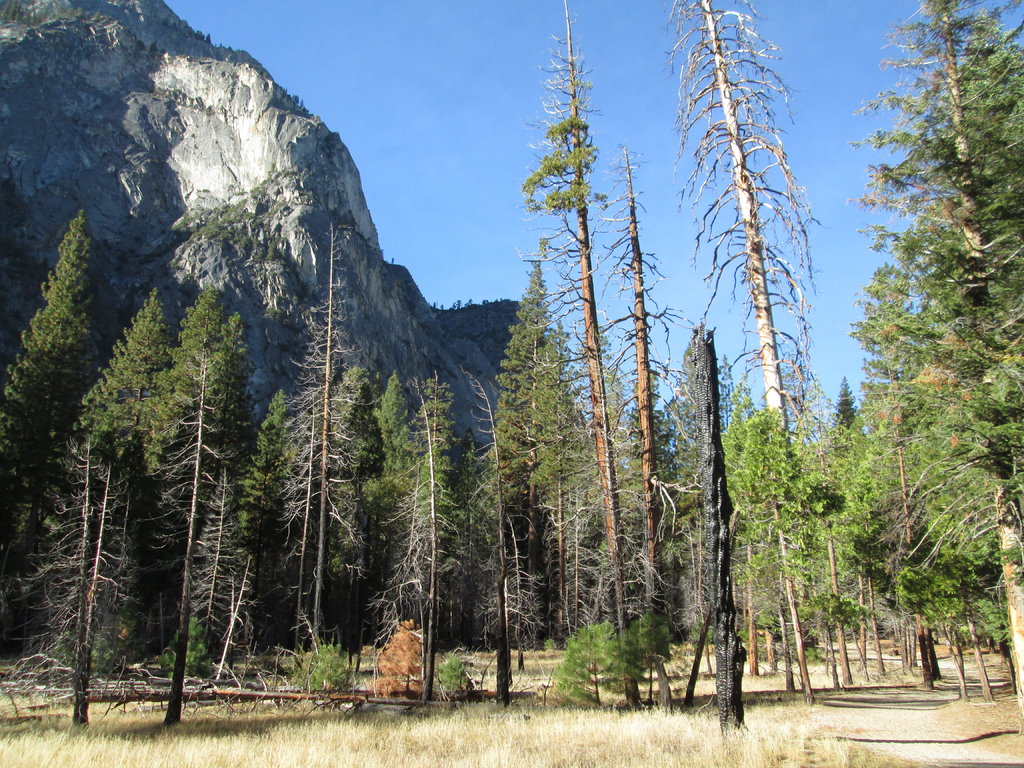 The track towards paradise valley
My first bear
Looking down from where I came in paradise valley
Paradise valley up
At Mist Falls I went for a quick swim, dried myself in the sun and on I went.
Just look at the pictures what a magical place to be.
Mist falls
Truly paradise for the next couple of pictures
What a view....Lucky me
The first snow high up
On my way down
Autumn is coming
Late afternoon I was quite high up and reached the first snow of the season that was the sign for me to turn around. It was all the way down and I was more or less trail running till I ran around a bend and I my heart almost stopped. Right in front of me there was a huge black bear on the middle of the trail. It looked me straight in the eyes…Häää what did the ranger tell me to do with a bear encounter? Think think think. Make yourself look big, don´t run away and very slowly back off but don´t lose eye sight.
So step by step I slowly backed of hearing my heart beating like crazy. Around the bend I didn´t see the bear anymore so I had some time to think what to do. I had to go down the valley and that´s were "Bruno the problem bear" was. I just have to wait till the bear moves on; the question is for how long?
I was still in my shorts and slowly it was getting cold so why not change my shorts for my pants?
Smart thing to do I thought; so I took of my shoes and my shorts. I got one leg in my pants and tried not to tip over as all of a sudden I heard a loud noise of branches breaking behind me. Holy shit there was a bear coming down from a tree behind me roughly 30meters away…F..K, one bear in front of me and one bear behind me, keep cool and try to get your pants and shoes on I mumbled to myself.
One eye on the bear behind me and the other to make sure that my right shoe would be on my right foot. As the bear finally got down the tree I had my stuff on (didn´t do my shoe laces). I was scared as hell but the bear showed no interest in me and wandered off….Puuuuuuuh……..Saved………..Still alive!
Ok time to move on and check out the bear in front of me. Coming around the bend I could just see it go down the slope.
If you think that was it with the bear encounters the short answer is no. After 15 minutes further down there was mama bear with two young cubs. I stayed where I was and just looked at the gorgeous cubs and they looked at me. It didn´t take long and the followed mama into the woods.
Probably this was the most dangerous of encounters I had as a mother bear will defend her cubs at all cost. It was not to close, but still close enough for a really good view at those cubs.
Sorry for the poor quality photos of this encounter. I usually travel with a "mickey mouse "camera that gives really bad shots when using the zoom.
One of the bears........Next time I will bring a real camera
I got back to camp around dark. What a day that was and even if the area is pretty touristy I didn't meet anyone on the whole trail that day.
Next day I planned a trail up a side valley starting almost directly at the campground.
The trail even had a name "Don Cecil Trail" named after a shepherd who used this trail in the early days.
Most of the trail was up and quit steep. I made it to the highest peak called lookout peak by midday.
The only person I met on the whole tor was a fellow hiker on the top of lookout peak.
The views were excellent and I had perfect views of the area I hiked yesterday.
Hiking up the Don Cecil trail
Great views
The first valley entrance on the left is paradise valley
The summit of lookout peak
On my way down I came across this sign. Welcome to America!
Going down
After a quick decent I hopped in my car and drove towards Sequoia national park.
Great ride with amazing views just look at the pictures and you will know what I mean.
Nice ride
Smile if you are happy
I made a few stop overs along the way, one of them was Hume Lake. I expected a wild lake in beautiful setting.
And yes the setting was beautiful but I was kind of shocked to find out that it was privately owned by some Christian organization. After a quick look I decided leave before they would Christianize me.
Hume lake
They will come and get you
On my way back to Lodgepole area a made lots of stops and couldn´t stop enjoying the sight of these trees and mountains. Just before sunset I reached another huge Sequoia named General Grant.
All the trees I have seen around our globe are all kind of small creatures compared to these trees.
Nothing but splendid views
Genaral Grant (sorry for the poor quality but I think the people I asked to make the pictuer didn´t.........)
This sign is not far from the General Grant tree and after reading it my imagination saw the two men.
Last pictures before the sun went down
That night I set my tent in the dark on the Wolverton parking area and for sure dreamt of bears and trees.
Today was my last day and my goal would be to climb alta peak with its 3414 meter altitude.
The hike started in the forest and gradually went up and passed the tree line.
The start of my way up to alta peak
What a view
This is California!
Close to the tree line
After passing a rocky ridge by the name of Tharp´s rock trees show up again. I thought I left the tree line and here are trees again. Foxtail pines they are as I found out later, extremely slow growing trees living up to 2,000 years. Even without knowing this I was impressed. Finally I made it up the last bit of the mountain and enjoyed the summit with great weather and views.
From the side of the summit I could see Pear and Emerald Lake far below.
The foxtail pines
This tree could be 2000 years old
Close to alta peak summit
View from the summit
Tharp rock seen from the summit
Pear lake from the side of the summit. I would be there later that day
I walked/ran down the mountain as I still wanted to hike up to Pear Lake and as the days were short there was not too much time to lose. The first part was back tracking but the second part was a new trail and just like all that I did in the past day just stunningly beautiful. Just see the photos and you will know what I mean.
A bit of snow on my way up to the lakes
Wauw
Alta Peak in the far back
Pear lake
Pear lake and alta Peak
Myself day dreaming
I made it to my car at sunset and started the long drive towards LA.
Aww what a great couple of days and what a great country
Looking back at all this exactly 8 years ago I think to myself how I would love to come back here and do some more hiking in this area.
Well who knows maybe one day we will get rid of Covid and we can enjoy our planet again.