Tourentyp
Lat
Lon
Mitreisende
We are (David and Davide) and have been friends for a long time.
The idea of this trip started many years ago as I (David) travelled through Pakistan in the mid-nineties. From that moment on I have always longed to go back to this fascinating wild country with beautiful mountains and hospitable people.
As alone is no fun I asked my friend Davide to come along on the trip and as you can read in my blog, he did!
Davide and David with Hunza valley
Our Intention: Cross the Thui pass to Darkot (upper Yasin valley) from there cross the Panji pass to Ishkoman valley, continue the trek to Naltar valley and from there cross over to the village of Sherqilla. On our first day in Pakistan, Chitral police told us that we could not cross Thui pass due to security.
Luckily I had plan "B" so we went for the Nazbar pass that would also get us to Darkot.
But as you can read things worked out a "little" different.
Day 1.We flew from Frankfurt to Istanbul were we had a connecting flight to Islamabad.
Arrived in Islamabad early morning 3:45 as pre-arranged by a friend we were picked up by our driver Ashgar who would take us to Chitral.
But first we needed some money and it was not very obvious where the ATM machines where hidden in the airport. But after a bit of asking we were shown by two heavy armed guards in what corner they were hidden.
After finding out that Mastercard didn´t do the job but Visa did we left the airport for our Toyota corolla.
The first bit of travel was in the dark but then slowly we got our first glimpse of Pakistan.
We drove to Malakand were we encountered the Pakistani police check post and were to find out that there were many more to follow. For Davide it was the first time to Pakistan and for him it was just like driving through a documentary with three slight differences and These were; you could smell , feel the heat and last but not least the dust in your face.
Our driver was a kind of mixture between Niki Lauda and Michael Schumacher and he would drive as fast as the car would and overtake other traffic where he could. No faces smiled at him during some of his moves.
Slowly driving in to the mountains it got les sticky and more scenic. We passed a few police post and handed out photo copies of passport and visa as if they were more important than our actual passports.
When we got close to Dir I got a bad feeling at another police post were the officer required a NOC (non objective certificate) .Without an NOC we could not continue our journey.
I tried to convince him that no more NOC for travel to Chitral is needed for foreigners but he did not believe me. Why did I not take a newspaper print with that Information! In the end Ashgar conviced him that we did not need the NOC. Ok we could travel on but the officer told us don´t stop or get out in Dir. So of we went up to the Lowari tunnel, of course with passing through a few more checkpoints.
The mountains in this area are still forested and are a real pretty sight. Lot of beggars on every corner of the way with little plastic basket were people can drop a few rupee´s. On these steep mountain cliffs with no room for agriculture and no industry present it must be hard for the people here to earn money. What are all the kids going to do when they grow up?
The Lowari tunnel (8km) that has only been finished a few years has less than 10% of the lights in order and as lots of Pakistani cars and trucks don´t have functioning lights it is a pretty scary thing driving through a tunnel with the feeling a car or truck could just bump into you.
Finally we made it out of the tunnel and we had a feeling of looking in to the holy land.
Driving towards Chitral the land got more and more barren and spectacular. Eroded cliffs and the "Chitral" river far below.
Ashgar please don´t make a mistake or break an axel because we don´t want to end up down there (dead).
Two hours before Chitral we had a lunch break and for Davide it was quit an (first) experience having lunch while all other men (no woman) in the room watched us foreigners. Of course I didn´t take long for the first guys to ask us where are we from and and and…Davide felt at ease!
Arriving in Chitral the first thing was that Asghar took us to the police Station because all foreigners must Register when they enter Chitral. A police escort was organized to take care of us and we were told this is necessary because of security risk. I asked if our trekking tour could start at Gazin for the Thui pass trek but the answer was no and the word we would hear over and over again was "security". I was more scared of my security in the Lowri tunnel as the days spent in Chitral. I guess it just the way you look at it!
Ashgar took us to the Hotel of our choice by the name of Al Farooq. We took a little rest, and after that we had the hotel owner call our police escort who took us to a local restaurant where we had a delicious Pakistani meal. On our way back we met up with a German tourist and had a chat on the roof of our hotel. We did not realize that this would be the only tourist for the next three weeks to come.
Chitral from our hotel rooftop
Day 2. We trotted around Chitral a bit but not without our armed guard. We tried our luck on the ATM machines to find out that they only do VISA card. Even though most have master card signs on them. Had some lunch in a typical little restaurant were the owner was pride to have us. The other people having lunch were surprised to see us foreigners. Chitral is a nice little town and to us everything looked save and we never had a glance of anyone that did not show pleasure at seeing us. Late afternoon our guard took us down the river. We passed an old fort that had seen better days. At the river our guard asked if we wanted to share a joint with him. We thanked him and told him we don´t smoke so he smoked the joint by himself. We threw a few stones in the river enjoyed the last rays of sun and walked back to town. Our guard walked slower and slower. We wondered why? We went for dinner at a local restaurant where we run into a handsome looking guy with a beautiful beard and long hair. He could have been a Taliban chief or a model for some fancy label. He turned out to be a doctor working for the WHO. He was responsible for polio vaccinations in all of the area north of Chitral. He talked in perfect English without a break. Interesting guy with a lot of knowledge of the area and it`s people. One part of what he told me really stuck to me. "A father in a far of village high up in the mountains did not want to vaccinate his children because he thought that the vaccination was a jewish try out on the Pakistanis population to manipulate them. The doctor asked him if he and his kids drink Coca Cola. The answer was of course! The doctor replied, the Coca Cola company is owned by jews and it would be much easier to put some drops in every bottle than travel through Pakistan and vacinate childeren. After that the father had his kids vaccinated. By the way if he would have refused the doctor had full power to call the police and have the father send to jail.
After this long and interesting talk our guard brought us back to the hotel. He was so stoned that were luckily not walk in to a security trap because we don´t know if he could have been of any help to us.
Our guard in Chitral
Day 3. At six in the morning the jeep that was arranged through my friend Imran was going to take us via Mastuj across the Shandur pass to the village of Phandar. The jeep driver was "uncle" how spoke no English and the interpreter was his nephew. The ride was a great one and we could not stop gasping and taking pictures. Shortly out of Chitral the road got rough and bumpy but this was the Pakistan we came for. We swallowed lots of dust and cleaned our throats at the next tea break at some local truck stop. The mountains where rough and barren except were there was water that was was irrigated through small channels. High up some of the valleys we could see huge glaciers. Nephew told us while passing a village that a few years ago the glacier broke loose and destroyed half of the village below. How tragic, these people that have so little and then they even lose all that they have.
And let's be honest about it, nobody here has insurance on a scenario like that!
From Mastuj the road wound up the mountain side towards the plain of Laspur. The higher we went the more we felt how small as humans we are I this incredible landscape.
Landscape between Mastuj and Shandur pass
At some point we passed an electrical turbine generating plant. What a good thing to see that some positive things of modern world have found its entrance in this almost none developed area. Short before Harchin, we were stopped by one of the many police check post on the way. But this time all was different. The Police told us we had to take an armed escort with us. Only when I told them that I was willing to sign some paper that we are here at our own risk and we don't need an escort we could move on. The road went up towards the Shandur pass from here. Spectacular landscape with the beautiful village of Laspur shortly before we went up the last climb to the Shandur pass. I am sure that there are lots of hiking trails here to be discovered but as long as the police wants foreigners out of this area these trails will stay hidden for many years to come. Finally we reached the Shandur pass. What a place to be at the end and on top of the world. The lake, the surrounding mountains and the clear blue skies, mind blowing! I have seen a lot of mountain scenery but this place is special. After a few photos and yet another check post we passed the polo ground and a few Gujars (semi nomadic shepherds). We rolled down the mountain into Gilgit Baltistan province. At Bharsat we had to stop at the next check post. The police guys looked a bit stressed, maybe because they had to take our photo with a way to advanced camera. It took quite a while till things were done but finally we were proud owners of a special identity card that we should carry with us wherever we go in Gilgit Baltistan.
The next few hours we passed through little villages, one prettier than the other but the thought of having to life there was not appealing.
The drive through Phandar village is very pretty with that beautiful shining blue river in the back ground and the villagers harvesting their wheat.
Phandar
This place could truly be a pure tourist magnet with the right tourism management.
The end of the trip was the PTDC guesthouse, a wonderful place overlooking a little lake. We said goodbye to uncle and nephew and checked in to our reserved room (not possible to just show up at a PTDC without Reservation although the place was almost empty). We had dinner in the PTDC restaurant with more waiters than customers.
Shandur pass
Day 4. Next morning we prepared all our gear for the hiking tour and left at 10:00 for the bus! We didn´t dare to tell anyone about our plans because we had a feeling that "security" would get us out of the area as quick as possible. We walked down the road instead of taking the bus, took some selfis with some Yyung guys and said hello to all the friendly people we met on the way. After one hour we reached the village of Shamran from where we walked of in to our mountain valley towards Nazbar. After leaving the village we made a lunch break and congratulated ourselves that we did it.
We were just happy walking up our trail. For Davide it was the first time in terrain as rough as this and he was kind of high on seeing all this natural beauty.
The trail to Nazbar an
We passed some farmers preparing for winter and harvesting grass for their animals. Small water irrigation channels on the mountain side that must have been there for generations. We were just happy. At 16:00 we decided we had enough for the day with our heavy packs (20KG) and found a nice camping spot.
We unpacked our bags and had our candy bar and all of a sudden two police men showed up telling us that we could not be here, security, terrorists and all the rest of it. We tried to convince them that what we are doing is legal we have permission from the ministry of tourism and we are in an open trekking zone but they told us we had to come down as we are under terrorist threat. Even the fact that we were tired didn´t count. They would carry our packs. So we repacked and there we went back down the same trail we came up. On the trail they told us that local people saw us and that is how the Pakistani intelligence got informed. Further down the trail we were joined by a few more officers and "escorted "down . After reaching Shamran we had a quick cup of tea and some dry chapatti (the eggs that came with the chapatti were quicly eaten by the police and nothing was left for us guests!). Still hungry we were taken to the "save" police headquarters in Phandar in a police Suzuki jeep.
What a day and what a journey. We were to tired to really understand what happened. Why did we have to sleep in a dirty police station and were not allowed to stay in a hotel? Nobody could tell us. What we were told was that we would meet the police commissioner of Gupis tomorrow and he would solve all our problems. Slowly we got to the point that we believed none of these "stories and promises" anymore. The question that came to our minds was if we were going to do any trekking at all? Did I choose the wrong country?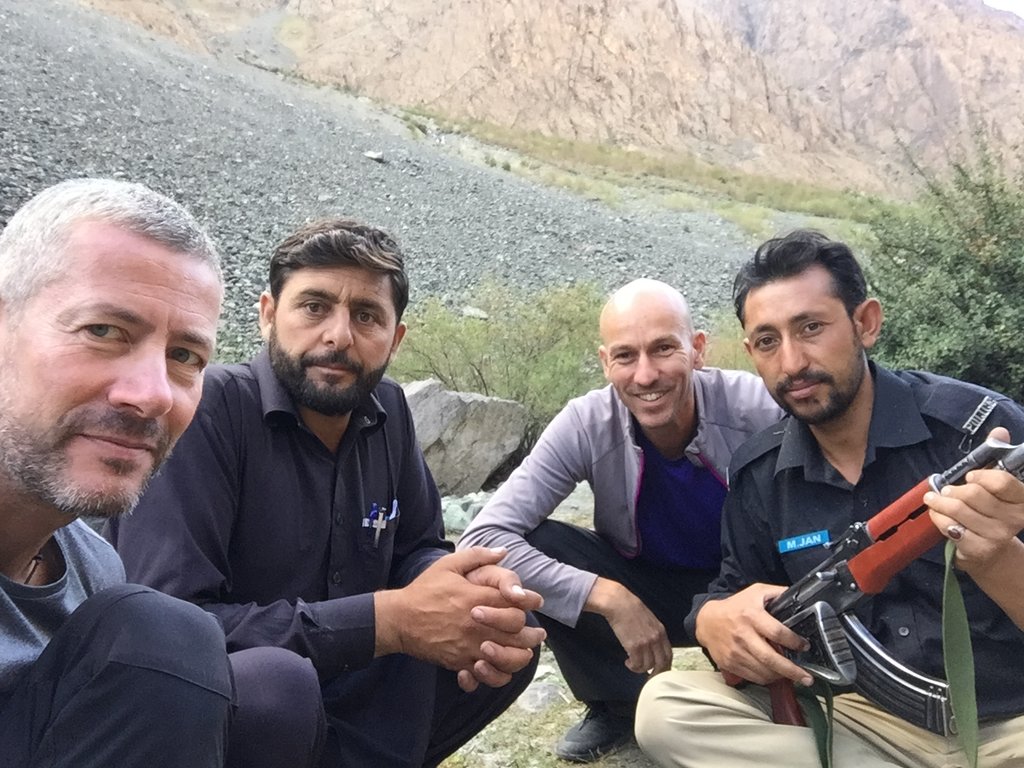 The police that orderd us back
Day 5. After a short sleep the police woke us at 5 in the morning and told us to get ready as soon as possible because the minivan was waiting. There we went, back packs on top of the van, the two of us in the van with about 18 more people (my pore legs and knees) and no police escort. Maybe it is not that dangerous after all and the local police just wanted us out of their territory. In Gupis nobody took us to the commissioner, instead a police man got in the van and joined us to Gahkuch.
Finally we got out after being squeezed for three hours and the police man took us to the police station and left without saying a word. Wauw, what a journey! Is this adventure or is this crazy?
In the police station we met with a young guy who told us that the commissioner would see us if his time would permit.
That was a downer and we had the feeling that all was going wrong. On top of that the young guy told us that we should arrange some trekking agency if we wanted to trek in the Hindukush because the chance of a permit for the two of us would be close to zero. In the mean time we sat in an office were the cartridge of the printer was taken out and brought back all the time, we figured out that they probably had a few printers but just one "full" cartridge for all offices.
Without us knowing the young guy phoned his uncle who had a local trekking agency who then showed up at the police station.
The uncle, a very friendly guy called Ayub informed us that even with his help things would not be easy to make arrangements. We decided that the best would be to go for his help.
We went to his office that was in the same building as the Pakistan tourist Information. The Tourist Information was deserted, 6 people should be working there but they had "Tea" for the rest of the day. So no help to be expected from them.
Together we walked back to the police station were we waited for an audience with the commissioner. After some time we could enter his office and Ayub pled for trekking permission. The only thing we understood was the fact that the commissioner looked very serious and only shook his head as a sign of no. Both of us felt that this guy was the one that held the key to yes or no, and things didn´t look good for us! After the conversation in Urdu was finished we left the room and Ayub told us the outcome. If the deputy commissioner who is also responsible for security n the aera would give his permission then the commissioner we just saw would also give his permission. Until today I never really got the difference between the commissioner and the deputy commissioner but we westerners don´t really have to understand all. The deputy commisioner was a friendly guy who talked English with us and we had the feeling that luck was turning to our side. So with his permission we went back to the gloomy commissioner who finally set his signature on the paper that Ayyub had prepared. It sounds like we just did this in less than an hour but in reality it took us more than three hours. With Ayub we went to a bakery and bought a cake for his sons 18-th birthday, then took a minivan to Birgal in the Ishkoman valley where Ayub runs a small guesthouse with his brother and two friends. We arrived and had a cup of tea and shared the birthday cake with his son and had the feeling that things turned out positive for us. That afternoon we discussed the details about the treks we decided to do.
The co-owner of the agency is Ayubs longtime friend Murrad who would be our guide for the next 15 days to come.
For Murrad it would be his first trekking tour without a full team of porters and cooks. We noticed that he felt a bit concerned but as we presented our food and equipment he got a better understanding of us guys and what we wanted to do.
The cook of the guest house prepared some delicious trout and after great dinner and a long talk we went to sleep.
Day 6. Our second adventure try started. Early in the morning a jeep picked us up and we went for the upper Ishkoman valley. In Chatorkhand our papers were checked by the police and on we went. We picked up our guide Murrad on the way. He told us that he was informed by the police that we could not travel on and had to go back to the Chatorkhand police station. Was that going to be the end of our trip?
After a bit of discussion between Murrad and the police we were permitted to continue. So of we went again on our second try.
We had some amazing views of the wide Ishkoman valley as we drove up to Ishkoman village that would be the starting point of our trekking tour.
The drive up to Ishkoman
We were stopped one more time for a police check at lower Imit. Upper Imit is restricted area for tourists, as is the upper valley that connects with the Afghan border.
In Ishkoman village Ayub and Murrad arranged a porter. We had tea with salt at the porters house while he packed his stuff.
His name was Rashar, he spoke good English so we had some very good conversations for the days to come.
The first trek we went for would be the crossing of the 4680m Punji pass that connects the Ishkoman valley with Yasin valley.
We walked of with good weather and all us of us in a good mood. Slowly we moved higher up the valley stunning at all the natural beauty of the mountains,
The local people living in these valleys (most of them shepherds producing butter and cheese) lead a harsh live. But as soon as we are seen they come up to our little group offer us tea, chapatti and butter. All of them are curious where we are from if we like it here and many more questions. They told us that it has been quite a few years ago that foreigners passed through this valley. What a pity such a beautiful country with such hospitable and friendly people and almost no tourists.
After a short walking day we pitch our tent on the side of mountain close to a little stream coming down a gully. After a quick wash our famous noodle stews was prepared for the first time and even our guide Murrad liked it (even if he did not like it this was going to be the dinner for all the nights to come on our trek).
All the tours he did until now had been with big groups, kitchen tents, lots of porters and local Food (No Aldi noodle stew from Germany).
First day on the Panji pass trek
Day 7. After a good sleep cows from the local shepherds walked by and woke us. We had breakfast, coffee, tea and muesli. Our guide and porter preferred their own chapatti they brought with them. Well they are not the only ones that don´t like muesli. I did a 10 day trekking tour in India 1995 with my dad and he had to eat muesli every morning. After that tour he never touched a bowl of muesli again.
We went up the mountain passing a few more shepherd huts were we had tea, chappati und butter "again". My friend David slowly got to the point that he couldn´t eat the butter anymore. He said it was like the smell of goat was added to the butter. One of the sad things about the butter production is that we in Germany pay less for a KG of butter as the Pakistan shepherd sells his for.
Don´t fall down!
We got close to the first "hanging" glaciers and it was as if we could almost touch them.
End of the afternoon we reached the high altitude plane of Holojut at 3800m. Camp was set close to a spring with spectacular views all around us.
With the bit of fire wood we could find we lit a campfire and had our three *** dinner. Shortly after it started to rain with strong winds so of to bed we went.
Holojut
Day 8. Next day was the day of the Punji pass, unluckily the weather didn´t look to good. We reached the end of the plain and at the moment we started our ascent it started to rain. Bit of a bummer, scree ascent and rain, but nothing to do about it. Murrad had enough experience as a guide to keep our spirits high! The higher we went, the worse the weather got. So we reached the pass in the snow. What a shame, standing on a almost 4700 meter pass and no view.
After a view pictures proving we had reached the top we struggled down the pass in the snow until we hit the glacier and the moraine. Difficult to say what was the glacier and what was the moraine was with all the rumble on the glacier. Coming down the glacier was a bit of a slippery act and all of us lost balance and ended up with traces of mud on our pants and gear. Close to a stream and next to a shepherd shelter we camped. Pakistani mountain men love campfires so of we went in search of fire wood. It all made sense as our Porter Rashar had wet shoes and feet. After another cold night (not in our sleeping bags) we woke up with a clear blue sky.
Panji pass 4680 meter, from left to right; David, Davide and Murrad Panji pass 4680 meter, from left to right; David, Davide and Murrad
Camping after Panji pass
Day 9. Of we went down the mountain towards Darkot. It was a pleasant walk with the sun burning on our necks. After a few hours we reached the village of Gartens. All looked very idyllic but a close look showed that some fields had not been tended, the first signs of rural depopulation?
I must say that walking through an area/village like this is a beautiful experience. But what if you had to live here during winter? Would I want to stay here for the winter, rest of my life? I have asked myself this question over and over again at various hiking trips all around the world. To be honest the answer is no.
We reached Darkot village at 2700 meter early afternoon. . Two chairs were set up for the two foreigners at the local shop. Murrad went into the village too see if he could organize some sort of transport to Yasin.
Darkot lies at the end of Yasin valley and the road ends here. It is surrounded by 6000 meter peaks and glaciers, the only way out is down the road that hardly should be called such. The other direction is towards the Darkot pass direction Wakhan Corridor/Afganistan.
We just sat there and enjoyed the sun on our bodies. The only thing negative was all the plastic surrounding the shop.
This is one of the things that really caught my eye during our tour of Pakistan, plastic, plastic everywhere. Will the Pakistani people notice this before it is to late?
After an hour Murrad came back with a young guy and a car or what used to be a car. I think I have never ever traveled in anything worse than this.
Literally it was stitched with steel wire. The road was so bad and bumpy that even with an of road motorcycle you had to have quit some driving experience to drive this road (or should I say track). Somewhere down the road we stopped at a few house and after some conversation someone came up with a hand pump. Our right front tire was losing air rapidly. The driver and the pump-owner pumped till they turned red and of we went. While driving the car across a recently flooded area it all of a sudden stopped. What a laugh, in the middle of these boulders and water passing behind and in front of us our car just stopped!
Well I decided this is adventure and not my car and not my problem so let's see what happens. The driver must have been some kind of mechanic or this "incident" happened before because after 15 minutes he got the engine running.
So there we went again, Yasin we are coming! The road got better and more and more inhabited along the way. Before reaching Yasin, Murrad explained us that the Agha Khan visited the area a few years ago and the main gathering of his followers was in Yasin. 200.000 people came to this village that maybe has 5000 inhabitants. Finally it was clear to us why so many mountain sides in the area where covered with painted white stones and the words "welcome our beloved Hazir Imam".
That night we stayed at some relatives of Ayub. We had a nice hot shower and looking back one of the best meals we had in Pakistan. The three of us had a room to our self's with matrasses and blankets. Murrad told us that most people in Pakistan prefer to sleep on the floor and don´t have beds.
We left our shoes and smelly socks on the porch. After dinner we went to our room and sorted out things. My shoes were still there but my sock gone. Just as I realized this the old caretaker came around. Having a close look one of my socks was just peeking out of his pockets. I pulled them out and we all had a good laugh and then went to bed. If it would be me I would steal clean socks but not a pair of smelly ones!
Murrad and Davide with Darkot in the background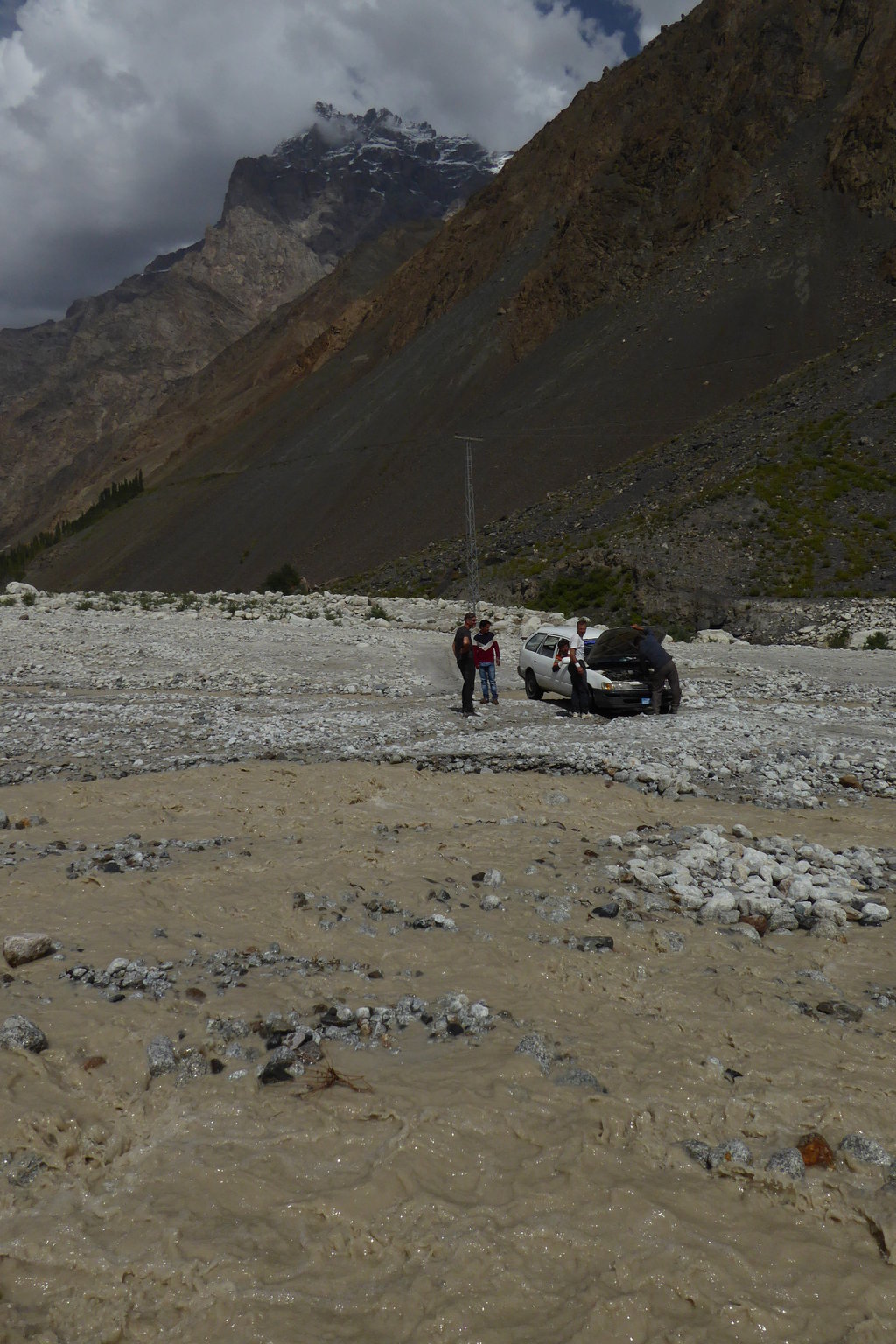 Break down in the flood
Day 10. Next day we left for the Nazbar Ann trek.
Davide had his first difficult night as he spend almost the same amount of time on the toilet as in his bed. But in the morning he felt Ok so there we went in a little 3 cylinder Suzuki Mehran that our host organized for us. It was a bit of a squeeze, four guys and three back packs but in Pakistan everything is possible.
We had to get out of the car a few times as the motor overheated as the road or should I say path was pretty steep.
What a sight, us guys getting out of that little car and helping to push it up the mountain. Well we got to a point that the little car just didn´t want to move anymore so we told the driver that this was it. He was such a nice and easy going guy that we sent him off with a nice tip.
The start of the trail was trough cultivated area with scattered houses along the way. During our lunch break at Batakushi we had some of our nuts and chocolate and I pulled out my map and my compass and roughly figured out the pass far away. Murrad talked to one of the farmers that came for a chat. He told Murrad that the whole valley was forested until they build a tractor road 30 years ago. With that road the deforestation started until there was no tree left. Even this local guy felt sorry for what they did and what the valley looked like now. Probably just a few guys in the valley that made some short time money. We walked on through this barren valley. Higher up we passed some Gujars who spent the summer in tents with their cattle. Of course we were invited for tea but this time we thanked them and told them we wanted to move on and make some process.
Late afternoon we set up camp close to a river on a flat piece of land and enjoying the last rays of sun. How beautiful live could be after I had my naked river shower and I felt so clean. Murrad and David just told me that I was nuts. I went into my sleeping bag feeling hmmmmmm and they had to go for the smelly version. Ha ha ha
Camping spot on the way towards Nazbar an
Day 11. Next day there was no cloud in the sky and after leaving our marvelous campsite we slowly walked higher up the valley. Before the climb started we met a shepherd who roughly gave us some advice were to go although even he had never crossed the pass. In "ancient times" people would cross passes but in modern times it is easier to walk down the valley and catch the bus that takes you to your "next" valley destination. So fewer and fewer are familiar with these high passes.
From the moment we said good bye to the shepherd the trail went up steep. All three of us just figured out our best trail and went up the mountain in a sort of meditational trance. At the top of a scree field we reached a high up valley. A hugh boulder with a cattle wall would be exactly the right thing for our next camp. It was still early in the afternoon but too late to tackle the pass. This would be our highest camp of the tour at roughly 4500 meters. Murrad and I went for an exploration tour to see if we could find the pass as it was not visible from our camp. David decided to take a nap and relax.
Before we went to sleep we played a game of scopa. I did not mention this untill now but we have been playing this card game (only known by people from the Napoli area in Italy ) every camping night. Murrad became a true professional and with his Italian looks and a deck of scopa cards he could pass for a real Italian from Napoli.
On route to high camp
Day 12.Next morning we got out early and no sun yet so it was freezing cold. The rocks in the little stream nearby were all covered with ice.
But with the first rays of the sun, life became more and more enjoyable.
We headed up the valley, climbed up a big moraine and walked up a small glacier that led up to the foot of the pass.
The accent looked pretty steep. But as it is with mountain passes just put one foot in front of the other, don´t think too much, don´t look up to often and then all of a sudden you are on the top! Still I must say it was a steep accent and the last few meters didn´t allow any mistakes. We made Nazbar pass 4980 meters. What a view and what a beautiful day with almost no clouds and no wind. We climbed up a little higher to make sure that we did the 5000 limit and there we just sat and all three of us just enjoyed this beautiful moment. After an hour time had come to descend. A little "mini" glacier had to be crossed and from then on we walked down on moraines. Not that easy as it sounds hopping from rock to rock. We passed some very interesting looking side valleys waiting for exploration in my next life. For this life I just had to go down and it went down very steep. Looking backwards I was happy not to do this trail the other way round (that was how I had originally planned the tour). Finally we reach the Kano Gol valley, a beautiful broad valley with lots of willows and a little forests of juniper. We followed a shepherd who was tending a least 100 to 150 goat and sheep. Murrad sugguested that we do a BBQ tonight. What do you guys think? Let us talk to the guy. The shepard told us he could not decide that and had to talk to his wife. What a man Murrad said who can´t decide for himself and needs his wife!
So we followed him to his hut for another hour and all we could dream of was this nice little roasted goat. We had sore feet but the BBQ kept us going.
Finally we reached his hut and met his wife and two little children that looked kind of scared at us foreigners. While the tents were set up the shepherd came and told us he could not sell a goat as they were not his. This literally poor guy is nothing else than the shepherd for other people and scared as hell that somebody would find out that he sold a goat that wasn´t his. So for tonight no tasty goat, just a bowl of noodles (again).
Ascent to Nazbar an
Nazbar an 4980 meter
Coming down from Nazbar an
Day 13. Next morning the sky was blue again and everything was just lovely. Down the valley the Kano gol met with the Bahushtaro gol and more and more trees in the valley. The mountains themselves had beautiful colors and it was a real pleasure to walk here. Close to the junction from where it is possible to walk toward Mastuj the valley gets wide and all looks peaceful. We meet a few shepherds with their livestock and that was about all. At the point where the valley gets narrow we got to a place where a huge avalanche dumped enormous boulders in the valley. It took us quite some time to pass this stretch. It must have been quite something when one side of a mountain just collapses and rolls down the valley.
We were warned by the shepherds that we had to cross a tricky bridge and we thought we were tough and seen it all. But when we got there and saw the two logs with a few loosely stones slabs on top we had a good look around if this was the only bridge. Yes it was the only one, so there we went and made it too the other side. But we knew that a drop down in the river would not be funny. Slowly it was getting late and the question was what to do? Camp in the valley or move on to one of Ayubs brothers relatives in Chasi. If we´d camp in the valley we would have to make a very early start to catch a minivan to Gahkuch. Why do all the mini van´s travel so early? Anyhow we decided not to camp in the valley but to march on to Chasi. It was the longest day we did and in the end we reached the relatives house at 19:30. We had just done an 11, 5 Hour walking day. Without the breaks we must have walked for 10 hours straight.
The family took us in with great hospitality and a nice meal was prepared for us tired guests.
With full tummy´s the mattresses were rolled out for us and of we went to sleep.
What a beautiful day
Day 14. Next morning we had an early rise (no coffee, poor me, how can a good day start without coffee?) to make it to the road in time to get seat on a minivan.
One thing that surprised me with Murrad was that he had some nice clean clothes hidden somewhere in his pack. So except for his unshaven beard he looked like a real gentlemen as we westerners looked a bit goofy.
After a short hour waiting we got a seat on a minivan that took us to Gahkuch.
At Gahkuch busstation we had paratha and tea for breakfast. I must say even with the paratha dripping with oil it was delicious. The shop owner was so happy to have us that every few seconds he asked if all was fine and where we were from.
The Magic moment was spoilt as someone came rushing in to tell us that the next minivan for Chatorkand was leaving. We hopped on and there we went to our guesthouse. We enjoyed an easy afternoon and a quick hand wash of some cloths. After a good diner we packed for the last trekking section we would start the next day.
The bus stop
Day 15. Early morning we were picked up by a small little car that took us to the start of Phakora valley. This would be our last trek that would take us over the glaciated Naltar pass into Naltar valley to continue to Sherqilla.The first bit was walking along perfectly arranged water channels. After some time the valley got narrow and the correct word would be gorge instead of valley. One soldier and his gun could withstand a whole army here. Both of us were just overwhelmed by the scenery. By afternoon time it became pretty hot and now we knew why Murrad wanted to go for an early start. Midafternoon we reached a little village called Krui where we set Camp close to one of the local huts. Most people were out with their livestock and cutting grass for the winter to come. We just had a lazy rest that afternoon. While preparing our noodle bowl for diner all eyes were watching. We offered the small crowed a try but all refused. Later that night we all joined the locals in a smokey hut and had some tea with them. We felt smoked after a few hours in the hut. All in all a great evening although we didn´t have a common language.
Narrow gorge on the way to Naltar pass
Day 16. As we packed our stuff for the next day hike, Davide complained that he didn´t feel well. I asked him, what do you feel. His answers was something like a flue coming. I asked do you feel good enough to continue or shall we go for a rest day? He replied that he should be ok if we go slow.
So of we went, Davide went slowly and it seemed like he had a lack of energy. I stayed close to him just in case. By noon we had a rest and he had a nap close to a gujar hut. He told us that the smell of the butter made him feel sick. We continued our hike but Davide went slower and slower. I already emptied most of his heavy stuff into my pack but he had no energy left. At some point we traversed down a riverbed and I could see that Davide could not control his steps anymore. I signed Murrad who was in front and told him that we cannot continue like this. After a quick talk we decided to go back to a spot we just passed so that Davide could take some rest. Here the two of us decided that he was definitely sick and the best thing was to go down to lower altitude. Our rough altitude was between 3300 and 3500 meters. We struggled back with poor Davide and reached Krui by late afternoon. I sped of 15 minutes before we reached Krui to prepare the Tent and Davide´s sleeping bag. As soon as he walked into our camp he collapsed on his mattress and went to sleep underneath his sleeping bag. Some villagers came to have a look. All had some idea why Davide was sick. The one they all agreed on was that yesterday tree elder villagers came and had a talk with us. According to the others they had the power to put a spell on someone. So that's what happened!
My opinion was that Davide got sick because he had something wrong to eat or to drink the night before. The question you may ask why didn´t I get sick. The answer to that is that I grew up in the bush bush of Ethiopia and I can literally eat everything without getting sick.
That night we sat in the same hut as the night before. Murrad and myself had to decide what to do next. Davide was seriously ill and we had to get him down the mountain as quick as possible. Two shepherd brothers that were in the hut with us offered to take him down the mountain on their backs. I asked them if they were serious. Davides weight is 80KG. No problem they said we are strong mountain men.
That night Davide rolled in and out of the tent many times because of diarrhea. The poor bugger was all I could think of.
My poor sick friend underneath his sleepingbag
Day 17. That next morning we walked back to Pakhora. Davide was taken on the backs of the two brothers whenever the trail went steep up or down. On the more or less straight parts he tried to walk himself. The brothers were unbelievable they ran up and down the mountain with this 80KG tourist on their back and swapped him every two, three minutes. All Davide could do was complain that the boys smelled so bad!
When we got close to the road Murrad took off as fast as he could to organize a car for pick up. I told Davide, come on just a little more to go and then Murrad will be waiting for us with a car and it will be all over.
The last bend and Davide did it. We put Davide in the car and off we went, straight to the hospital in Chatorkand.
Foreigners in a local hospital in the Hindukush doesn´t happen to often so Davide was shoved into the doctor´s room straight away.
After diagnosis he was brought into a room with four beds and one other patient. All of a sudden the room was filled with all doctors and nurses in the hospital. Davide was checked from top to bottom. Even a very modern computerized instrument for the checking of blood pressure and heart signals was brought in. The poor guy in the bed next to Davide must have thought who is this guy that gets VIP attention? Later the crew of the guesthouse came in with all the medicine orderd by the doctor. One thing about the Pakistanis, when it comes to the use of cell phones they are the best. Without us noticing all the prescriptions had been phoned of to the local pharmacist. The head of hospital himself came to set the needle in Davide´s arm . We watched, drank tea, held council next to the bed and just watched our poor sick friend. Davide fell asleep!
After the first fluid bottle was empty another smaller bottle was connected and slowly we could see some color coming back in Davide´s face.
After all was done the doctor came with 3 different strips of pills and told us at what time of the day they had to be taken.
Last but not least Davide was released.
Ayubs brother was waiting for us in his car that took us straight to the guest house.
For Davide the ordeal was finally over and he could go to bed and rest.
Late afternoon Murrad came by with flowers for the patient. That is what I would call great love and care for your friend.
Davide as patient in Ishkoman hospital
Day 18/19. I spent the next two days with a few walks along the country side. Murrad picked me up on the back of his motorbike for a walk on the opposite side of the valley. As him being from the area and knowing everybody we were invited and had to drink tea everywhere. We passed a farmer who was harvesting his almond trees he invited us to pick what we wanted. I gathered a bag full that I later ate in Germany with my family. Everybody agreed that they never had almonds that tasty.
After these two days Davide was recovered enough and felt it was time to leave for Hunza valley.
The guesthouse in Birgal, the best place around for Davide to recover
Day 20. Next morning we got on a minivan to Gilgit. It was scary drive in the fully overloaded minivan, or was it because we had been offered the front seats next to the driver and were able to see all his takeover maneuvers. When one passenger left the Minivan and crossed the road in front of the van without watching he was almost killed by a car that overtook us. It was so close that the other car brushed him. After that everything was even scarier.
As I told Davide before we went on the trip: I think the change of dying in a traffic accident in Pakistan is way higher than the chance of a terrorist attack!
We got checked at many police stations over and over again. I am sure it is for everybody's safety!
Although I think that the number of people in Pakistan that die in traffic incidents is much higher as terrorist attacks. I wonder if the Pakistani government investigates this issue.
We changed minivan in Gilgit and raced on to Karimabad on the KKH (Karakoram Highway).
Compared to all those years ago when I traveled the KKH as a dirt track, the "road" may truly be called a highway now, although lots of stones and boulders block lanes on the "highway". But I suppose they just fell down a few minutes ago!
After roughly 5 to 6 hours minivan rides we finally made to village of Karimabad. How nice to move our long legs again after hours of poor blood circulation in a Minivan.
We walked down the main street (there is only one) to find the Haider inn.
The owner showed us a dorm as (all) low budget tourist take dorms. Well the two of us didn´t want a dorm but a room just for us and with a view. Our room was not ready yet so the owner cleaned the place. Well in our opinion cleaning is something else but the pakistani thing is to get the garbage out of the room sweep it and there you go. Same as they do at the Hilton Hotel!
The room had a strange smell but things got even worse and as we opened the bathroom door. We were almost blasted away by the smell of the drainage. The room was not that bad as long as the bathroom was closed. Davide complained but I was tired and had a headache and just wanted to lie down and couldn´t be bothered too much about this typical backpacker hostel as you find all around the world. End of the afternoon I woke up and felt a lot better so we went out for some food.
Finally after all these weeks we see the first western tourists. Even the guy with whom I applied for a visa in Germany was there. As I have noticed over and over again the backpacking world is not as big as we think it is.
Rakaposhi morning view from the guesthouse terrace
Day 21. Next day we had breakfast on terrace of the hostel with a spectacular sunrise and views of Rakaposhi, the surrounding mountains and the broad valley of Hunza. Yes this is a very beautiful spot on our planet! After breakfast we went on a day tour to see the Ultar glacier. The walk took us through Karimabad past the Hunza fort and then in to the gully of the glacier. Spectacular views of the backside of Hunza fort. Finally we got to the glacier that was a bit of a scramble but we made it.
Impressive to see the glacier melting and stones and boulders rolling down. We scrambled down and made it back to Karimabad. We checked all the little tourist shops that have popped up since my last visit. Had a shower out of the bucket with "Hunza water". Hunza water is glacier water that looks milky because of all the unfiltered sediments that still float in the water. People here seem to get pretty old and they blame the Hunza water for that! We played our game of scopa again and went to bed early like we have been doing almost every day since we arrived in Pakistan.
Hunza fort
Day 22. Next morning we were blessed with another beautiful sunrise. Even without a "real" coffee life was heaven.
After that enjoyment we went for a day trip to a lookout point called eagles nest. The walk to get there was an adventure as a great deal of the walk was next to water channels and some of these are constructed directly on the sides of a cliff. One wrong step and down you go. And with down I don´t mean computer game with three more lives to go!
Eagles nest is the top of a hill overlooking the Hunza valley with all its majestic peaks that surround it. Many years ago there was just the hill top, but as more and more (local) tourist started to come to Hunza more and more hotels popped up in the area. Just filter out all of this and it still is an amazing spot.
We spent a long time just sitting there, enjoying the view and the sun warming us. We walked down through the valley passing houses dotted on the mountain side. Life looked so peaceful here; being in this spot in Pakistan it seems difficult to imagine all the problems these wonderful people in this wonderful country encounter. Friendly people encountered us, greeting, waving and passing warm smiles. Finally we reached the valley floor and walked to Altit fort.
We walked through the old village and saw the signs that no photos were to be taken. So the locals were fed up with tourist taking their photos as if they were taking pictures of animals in a zoo.
On our way back to Haidar Inn we had lunch in a little local restaurant were mama was the cook and served us. Passing my memory this was one of the only woman we met in Pakistan cooking and making a living.
The place was full of flies, the walls decorated with newspapers but the food was tasty. That afternoon we did some shopping for our beloveds at home and enjoyed a lazy afternoon.
Hunza valley, what a beautiful place to be
To be continued