Tourentyp
Lat
Lon
Mitreisende
Canada, Vancouver Island-kayaking & west coast trail 2019
This was a three week trip with my daughter Fem and my longtime friend Ji. The main aim was to do the west coast trail on Vancouver Island and because we had some time to spare we decided to add a kayaking trip as well.
The planning started with the reservation for the west coast trail. We planed the rest of the trip around that time schedule.
We had a direct flight from Frankfurt to Vancouver where we picked up our rental car and took the ferry too Nanaimo on Vancouver Island.
By the way, I do speak, read and write German but English is so much more easy for me to write. Sorry for the inconvinience.
The three of us
Ferry to Vancouver Island
From Nanaimo we took a two day ride to telegraph cove. This was the starting point of our 3 day kayaking tour with the company "north island kayak".
Telegraph cove
Last rays of sun
We were a group of ten tourists from all around the globe and our two kayaking guides Mark and Kevin.
All in all it was an experience of a life time. The whole trip was just amazing; the nature surrounding us was so majestic, the wildlife that could be seen from so close, it was like a dream come true.
Wildlife included; sea lions, dolphins, whales, orcas, bald eagles and so many different kinds of birds.
The overnight stay was in two of the company's wilderness base camps.
preparation for the tour
Humpback whale
After the three day kayaking trip we got into our rental car and after just a few minutes ride a young black bear crossed the road, it was almost like jumping from one magical moment into the next. We drove to Moss Lake where we set up camp for the night.
We camped next to Moss lake
Next day we continued our easy drive across Vancouver Island and stopped at China creek campground south of Port Alberni. We camped directly on the lake shore with great weather.
Camping at China Creek campground
Camping at China Creek campground
Next day we drove to Bamfield on a logging road. Big fun for guys like us "racing" on a dirt track. In Bamfield we checked in to the Bamfield inn and enjoyed the rest of the day mainly on the dock watching little boats passing by.
The dock of the bay-bamfield
Next day we drove down to the starting point of the west coast trail at Pachena bay and started the seven day hike with a blue sky on deserted beach…Ohhh life is good.
Starting west coast trail at Pachena bay
After our afternoon break we saw the first highlight on the trail, a young bear cub. We just stood there hypnotized, watched and waited for mama bear to show up. She did after some time but she was not at all interested in us (wow Canada we love you).
The bear
Fun for the boys close to the trail staring point
On the way we passed a look out point for seals. We just sat and enjoyed this great scene nature offered us.
Seals look out point
Seals look out Point
Our first night we camped at Michigan creek and enjoyed our first bowl of noodles.
A bath?
While checking out a boiler of a steam ship that wrecked in 1893 we saw our next bear on the beach searching for food. Sunset was fantastic and we slept like young mermaids.
I will hit that bear if she comes for me
great sunset
The Boiler of the 1893 ship wreck
The next day was another sunny day so of we went with the sun in our face on our first stretch of beach that morning.
Our morning stretch of beach
Crocodile Ji talking to a snake
We walked to Tsusiat falls for our next camp site. Camping on the beach next to the Tsusiat water fall was just like a dream. Just have a good look at the pictures and you will know what I mean.
life is a beach!
Sunset at Tsusiat water fall
The next day we woke up with a slight drizzle…Bleeee, but let us be honest we had been blessed with great weather until now so nothing to complain about. It wasn´t that bad because it wasn´t that cold so we swapped rain gear for T-shirts after some time.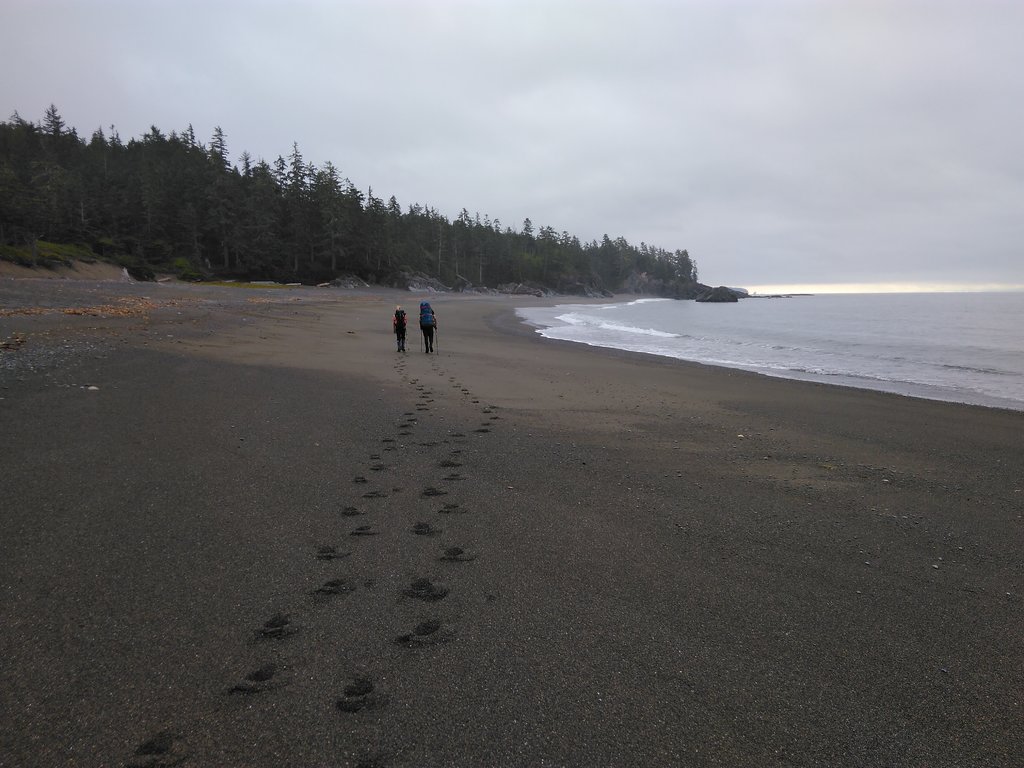 See the drizzle?
At Nitinat river the first nations picked us up with their boat and brought us to the other side of this impassable river and dropped us of at the magical "crab shack". This was the place to eat fresh crab that was prepared right in front of you and that was what we did. What an experience of a life time. The boys even had a beer and Fem a coke… What a feast!
The crab shack
Fresh crab
But we had to move on and it would be a tough walk as the next campsite was still quit far off.
Somewhere on route
Tired or enjoying the view?
Tired from all that walking we reached Cribs creek, prepared dinner and went to "bed". Next day would be an easy day at least that´s what we thought, but slowly the trail became more muddy and had more and more ladders, but no matter what we were blessed with great views, beautiful beach scenery and lovely forest.
Some shots along the way
Some shots along the way
Some shots along the way
One thing to get used to on the trail are ladders
Shortly before camp at Walbran creek we had to cross the river with a cable car, great fun for us small boys and girls.
Cable car
Close to the campsite there was a colony of thousands of seagulls. Next morning we walked off towards camper bay campsite. On the map it doesn´t look that far but because of the mud and the huge amount of ladders it took us ages.
Who likes mud?
and another ladder
Jungle!
How to do that?
At the end of the day we reached camp
Our hobo

So instead of an early arrival it became a (late) arrival just like all the others at the end of the day. While eating our famous bowl of noodles on the beach we saw a pod of orcas passing just in front of us, what a lucky day again!
Next day we went for an early start as we had to pass Owen point before the tide would come in if we wanted to do the coastline walk. We were told that it wasn´t an easy walk but absolutely worth it.
So there we went and we were not disappointed as you can check out on the photos.
On route to Owen Point
Close to Owen point
Ji was very lucky that day as a bald eagle flew past him just a couple of meters away (is this all real or are we dreaming?). We made it to Thrasher cove quit early so there was some time for another camp fire.
Camp at Thrasher cove a few other hikers
We were surprised by a bear that slowly walked into the camp site. Luckily one of the campers had a whistle with him and scared the bear of. The guy that camped close to where the bear wandered of into the forest for sure didn´t sleep that well that night.
Today is our last day and we were blesses with a clear blue sky.
That is what we call a sunrise
Just before starting our last day of hiking
The finishing point looked close by on the map but due to a whole lot of ladders it still took as quite some time before we reached the Gordon river pickup point where a first nation boat took us back to civilization.
Some last ladders on our last day
Ready for the crossing of Gordon river....End of the trail

We decided to stay on the campsite on the other side so one of us could hop on the trail bus the next morning to pick up our rental car. That afternoon we went to "town" and had a great meal and internet at the marina.
Next day I spent half the day on the trail bus back to Bamfield where I picked up our car and then drove back to port Renfrew and picked up Ji and Fem who had a relaxing day. We decided to drive towards Vitoria and just see where we would end up.
As time was on our side we reached the ferry to Vancouver in time so we agreed to have an extra day in Vancouver and shipped across the straight that night.
The blue building is our Vancouver Hotel
English bay
English bay
We spent our last few days in Vancouver just strolling through town, enjoying all the delicious food varieties, sitting on English bay beach and having happy hour drinks while the sun set.
Good life in down town Vancouver
Conclusion: Canada we love you!